Lupita Nyongo has been the latest celebrity to fall victim to an advocate for Eurocentric ideals. Someone decided that her natural puff wasn't aesthetically appealing enough to grace the cover of a magazine. Wasn't it just a week or two ago that Solange Knowles hit out against a UK magazine for taking liberties with her elaborately styled hair in a similar fashion?
Well in this latest episode, UK-based Grazia magazine was blasted by Lupita for removing part of her hair from the cover of their November issue. To prove her case, Lupita posted the magazine cover that shows her sporting what looks like the days of her big chop, alongside the actual image she took for the magazine, which shows her hair pulled back in a low afro puff.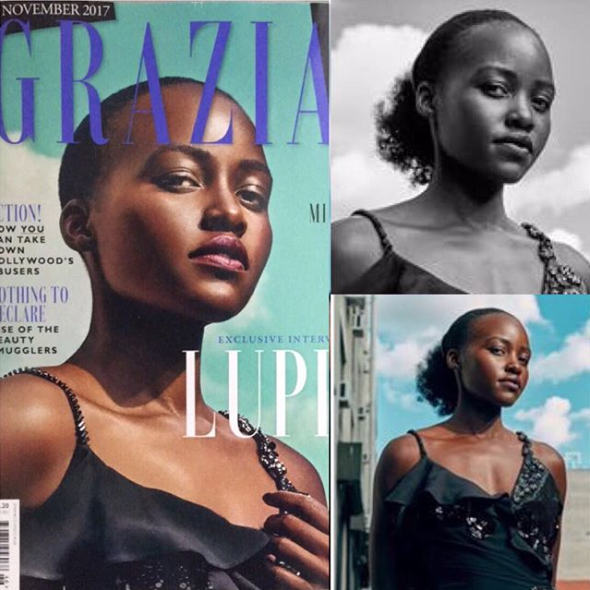 As I have made clear so often in the past with every fiber of my being, I embrace my natural heritage and despite having grown up thinking light skin and straight, silky hair were the standards of beauty, I now know that my dark skin and kinky, coily hair are beautiful too. Being featured on the cover of a magazine fulfills me as it is an opportunity to show other dark, kinky-haired people, and particularly our children, that they are beautiful just the way they are. I am disappointed that @graziauk invited me to be on their cover and then edited out and smoothed my hair to fit their notion of what beautiful hair looks like. Had I been consulted, I would have explained that I cannot support or condone the omission of what is my native heritage with the intention that they appreciate that there is still a very long way to go to combat the unconscious prejudice against black women's complexion, hair style and texture. #dtmh
In response, the magazine issued an apology (This is getting to be redundant and somewhat of a cliche if you ask me) and added that they " committed to representing diversity. They tried to distance themselves further by saying they didn't give make any editorial request nor gave permission for the photographer to omit Lupita's textured puff.
They claimed they should have performed their due diligence to ensure that they were aware of all alterations (As though we should believe that they would publish without ensuring that they gave it a pass).